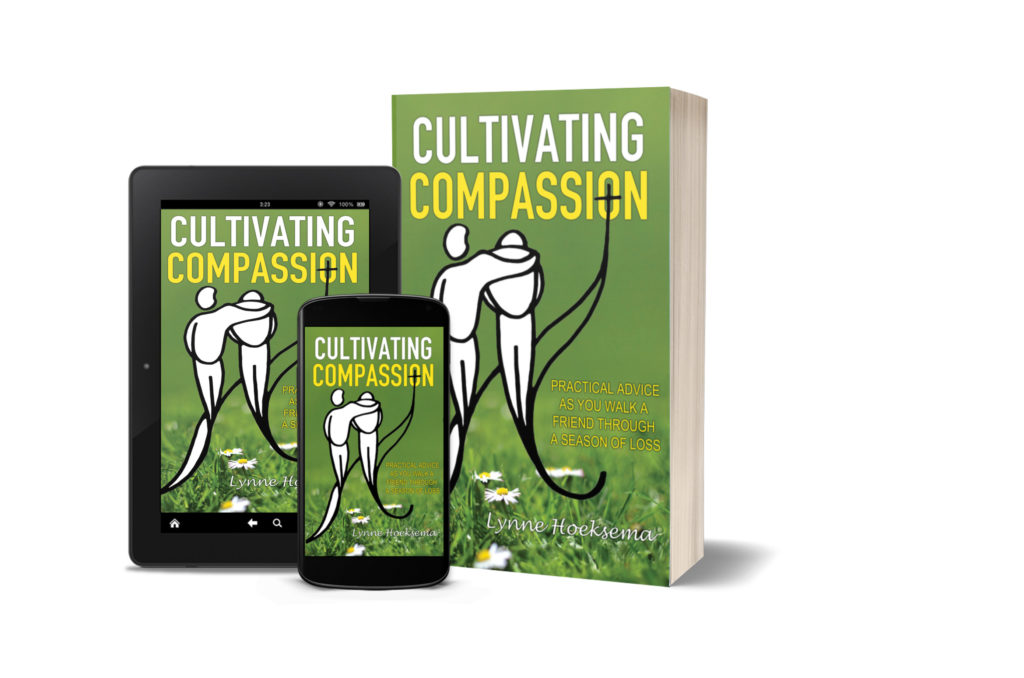 Just one more phrase I never thought I'd write! Really, a published book? I know many of you have seen the announcement via FaceBook – or maybe you're even on my amazing "launch team," but this is to catch the rest of you! And add a little meat to the backstory.
Let me take you back to September 2018 when the whole idea of a ministry was just beginning to take shape. It was the first meeting with my small, but mighty (!) board of directors. As we discussed the goals and direction of this yet-unnamed ministry, I told them, "The goal is the message." Plain and simple.
What was that message? To teach others how to "Be a Blessing to Your Grieving Friend." Since that day, the message has taken on many shapes from presentations to workshops to one-on-one sessions to interviews to countless blog posts.
This week, we add one more vessel for spreading this message – an Amazon self-published book entitled, Cultivating Compassion – Practical Advice as You Walk a Friend through a Season of Loss. I won't take the space here to share all that led to this reality, or to explain how unlikely I thought it would be! Suffice it to say that God continues to lead this ministry down the paths of HIS choosing. I'm just trying to pay attention!
So, while the marketing of this book can often feel uncomfortable and "self-promotion-ish," I must remind myself of the ministry goal – the message. I believe in the depth of my soul that the message of this book specifically, and the ministry as a whole, is so very necessary in our world today.
Everywhere you look, SOMEONE is hurting from SOMETHING. And sadly, there's even more heartache that we can't find by looking because it's hiding behind the façade we often create, knowing that the world may not want to hear about our pain.
I want to change the dialog around that phenomenon. I want grieving people to know that suffering through a loss doesn't mean you're weak or faith-less. It means you loved deeply and are rightly grieving that loss. It's the price we pay to live in this fallen world. "In this world, you will have trouble. But take heart, I have overcome the world." John 16:33
I also want to equip all of us as friends, and especially as believers, to understand the importance of stepping into someone's hurt and lending that listening, non-judgmental ear. It's SO much more important than finding those elusive "right words."
I hope this book accomplishes all that.  It's a quick read that is full of practical advice on what to say and do, and what NOT to say and do.  And it provides the "why-fors" behind those "how-tos."  I look at what the Bible says about becoming a person of compassion, how God can equip you for that, and why it's so important.  And there's a biblical view of what God does through our trials.
If you want to help support and spread this message, I have a few options for you! Warning! Self -promotion ahead!
Download the Kindle version for just 99 cents until November 24th. (Price increases after that date.) Or purchase the print version for $9.99 and get a FREE Kindle version. Here's a link directly to the book on Amazon.
Leave an honest, positive review on Amazon. (You'll need to have spent at least $50 there in the past 12 months.) Here's a link directly to the review.
Let others know about the book!
And above all of that, I would be so grateful for prayer support over this particular venture, and over all aspects of the ministry.
THANK YOU for walking through this journey with me!
For we are his workmanship, created in Christ Jesus for good works,
which God prepared beforehand, that we should walk in them.
Ephesians 2:10