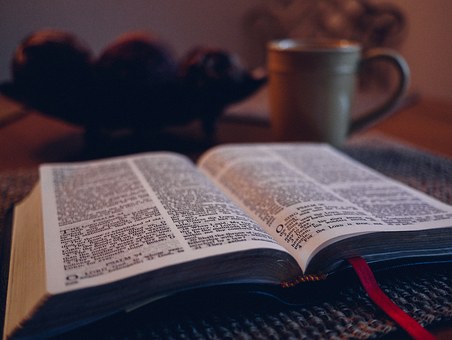 My "gut-reaction" to this question is to say, "Of course, scripture is always helpful! It's the Word of God Himself recorded for our benefit." And many of us are familiar with the scripture text from 2 Timothy 3:16-17 which says,
"All Scripture is breathed out by God and profitable for teaching, for reproof, for correction, and for training in righteousness, that the man of God may be complete, equipped for every good work."
These are great words of comfort to us in any circumstances because it gives us COMPLETE confidence to go to the Bible, searching for answers, promises, comfort, understanding, strength and peace.
But after living as a widow for two years, and hearing from countless others who have experienced numerous kinds of losses, I don't think the answer to that question is a simple one.
So often, my suggestions are more "food for thought" than hard and fast rules. That's how I'd like to frame this particular blog post. Lots of room for judgment calls here, and certainly a huge dose of grace is helpful, on everyone's part!
So, with that I mind, let me break the original question down into a SERIES of questions that I hope will help us see this more clearly.
Question #1 – "Is the Bible the infallible Word of God?"  In other words, can we trust that all God tells us in the Bible is true?  Answer – ABSOLUTELY!  Of course, some passages can get a little "funky" depending on the translation, but in the ORIGINAL, God's Word represents absolute truth.
Question #2 – Echoing the Timothy passage, "Is ALL Scripture profitable…for helping us in some manner?" Again my answer would be – ABSOLUTELY! Because God TELLS us that it is. I believe that and have seen time and time again how a scripture I've read dozens of times, suddenly jumps off the page of my Bible and speaks directly to the circumstance I'm in. God has sovereignly ordained every word of the Bible through many authors and over many years. It is HIS revelation to us as His people.
Question #3 – "Is all scripture appropriate to share with someone experiencing a loss?"  That answer gets a little fuzzy.
Here are just a few of the factors that should be considered before coming to a conclusion:
Is the timing appropriate? Imagine for a moment how this scripture might feel to you if you have just been dealt a devastating blow. Maybe you've lost a spouse or a child or a parent suddenly or tragically. Maybe you or a loved one have just received a terminal diagnosis. Maybe you lost your job unexpectedly. How does this sound to you?
And we know that for those who love God all things work together for good, for those who are called according to his purpose. Romans 8:28
It might not be the comfort you are seeking at that moment, regardless of the truth of the passage. Timing is critical! At the moment of "impact," what we likely need most is acknowledgment of the depth of the loss we've just suffered. A listening ear. A hug. Shared tears.
What's your purpose in sharing the scripture? This gets kind of tricky, doesn't it? So often, it's because we have no idea what to say, and we figure we can't go wrong with scripture, right?! To the griever, it could feel like you're trying to apply a "spiritual band-aid" to their pain. Give us the right promise from God and our pain will go away. I wish it was that simple. Examine your heart before sharing.
Has your friend asked for spiritual guidance or help? If so, then absolutely have a conversation about what they're struggling with and seek help in God's Word to speak directly to that need. If their hurting heart is longing for comfort from God, then be the vessel God can use to speak truth into their lives.
Has the Holy Spirit spoken to YOU with specific scripture? It's true that NO ONE knows what your grieving friend needs more than God, through His Holy Spirit. If you feel that the Spirit is nudging you to share a specific text with your friend, I would pay attention to that. It might be just what they need in their hour of sorrow. Send them a text, email, FaceBook message – or even a note in the mail – with the scripture. God's timing will be perfect in this. Trust Him with that.
Wow, Lynne, you sure know how to make a simple question complicated! Yes, yes I do. But it's not really me making it complicated. The sharing of scripture with someone in deep grief IS complicated, by its very nature.
And because of that, I would encourage you to use discernment and discretion. First of all, ask God to help you and then, listen to His leading. Then listen to your friend with a heart of compassion. And don't let my "cautions" keep you from searching the scriptures for texts to help your friend. God will let you know when the timing is right.
If any of you lacks wisdom, let him ask God,
who gives generously to all without reproach, and it will be given him.
James 1:5