Who knows what a triple threat is? If you're a sports fan, you know it's an athlete who is outstanding in three key aspects of a game, e.g. a quarterback who can run, throw and even kick.
But if you're from the musical drama world, you might know of it as anyone who can sing, act and dance really well.
Just for the record, I'm not a triple threat in either sense of those definitions!
MY triple threat is Triple Chocolate Frozen Yogurt. Chocolate yogurt, chocolate swirl and chocolate chunks. Yep, doesn't that sound better than the other definitions? 😊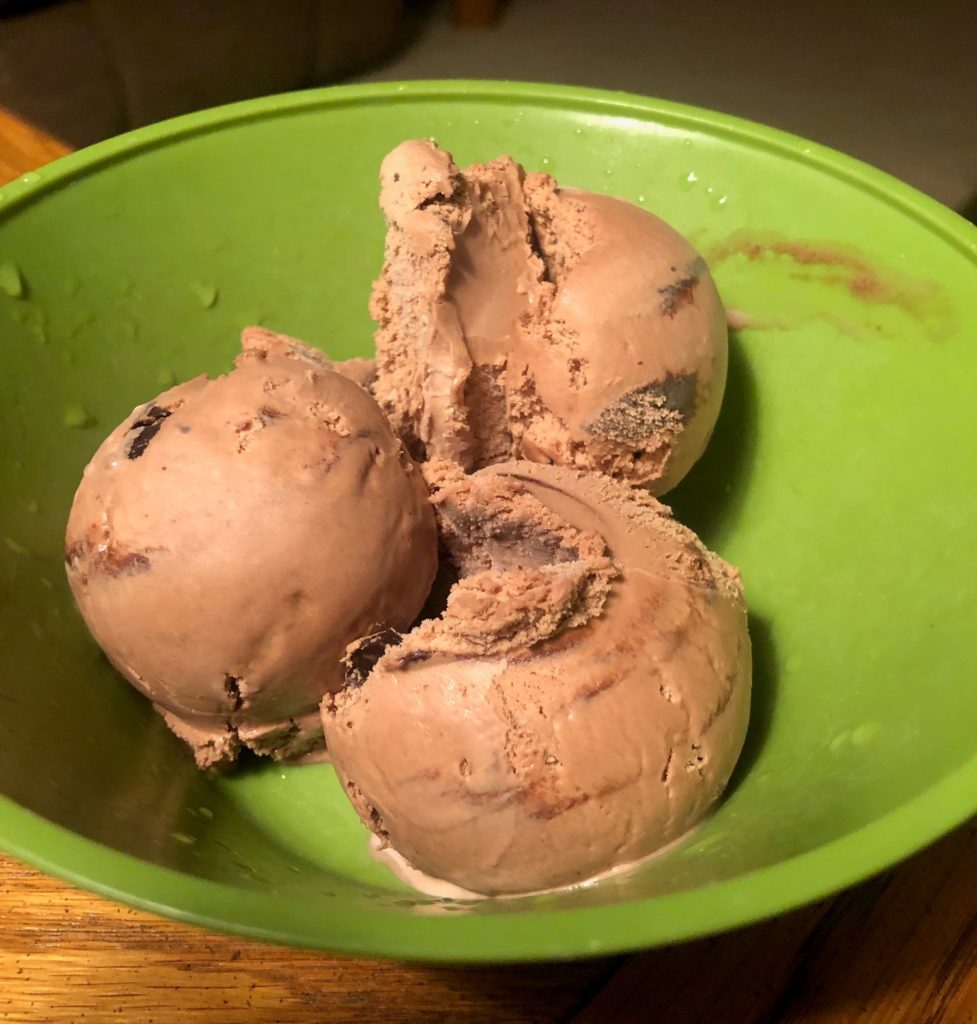 So, here's the story behind that. I've spent the past several months doing the "technology black hole shuffle." You know, the one step forward, two steps back dance. And unfortunately, my go-to reward for participating in this dance was three scoops of my Triple Threat. My Achilles Heel, for sure.
Add to that a week visiting some family and friends where NOBODY was thinking diet food – and the result was a number on the scale that was a bit discouraging once I got back home.
I made a pledge to refrain from my Triple Threat for a week. But for anyone who has tried to stop eating something they LOVE, a week is an eternity. And I felt pretty certain that I would not be able to hold out that long – especially since my technology black hole was still around waiting for me to fall back in.
Then I remembered a piece of advice that I dispense at my presentations, in my book, and probably in some past blogs. It had to do with tapping into the power of the Holy Spirit to help us do things that we can't do in our own strength. Specifically, I focus on the FRUITS of the Spirit – love, joy, peace, patience, kindness, goodness, faithfulness, gentleness and self-control.
So when people feel completely ill-equipped to step into someone's pain, I remind them that, as believers, we DO have that power of the Holy Spirit available to us. And the fruits of love, patience, kindness, goodness, and gentleness are just what we need to help that hurting friend of ours.
Moment of truth for me. Before giving up on my no-Triple Threat challenge from the start, God reminded ME that I could use one of these fruits for this proposition as well.
Did you notice what the last fruit is? Self-control. Of course it is! No getting around it – there's something for me to tap into as well – and trust that God would equip me.
I'd love to say that I felt zero temptation during the Triple Threat Abstinence Week, but that would be too easy. Every night around 8:30 or 9, I CRAVED a nice bowlful of my chocolate delight. But I reminded myself that I have the fruit of self-control within me because of God's Spirit helping me.
So, yes, I made it eight days without giving into that temptation! But, oh my, did it taste heavenly when I finally treated myself.
I know this might not be an earth-shattering revelation. However, I do believe it's a good reminder for us. Don't forget the power that is available to us – not just in the big life events, but in the mundane minutiae as well.
The next time you're facing something, large or small, that you don't believe you can do in your own strength, think about which fruit of the Spirit might be just what you need. I certainly needed the reminder in my life!
But He said to me [Paul], "My grace is sufficient for you, for my power is made perfect in weakness." Therefore I will boast all the more gladly of my weaknesses, so that the power of Christ may rest upon me.
2 Corinthians 12:9