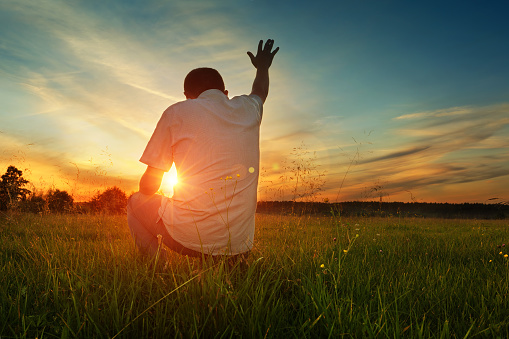 One of the saddest things in this world is to experience a deep regret with zero chance of making things right with the other person. It's also one of the most universal. Who of us hasn't done something, or MANY "somethings" that we may regret for the rest of our lives? Regrettably, we are all in very good company. Trust me, I'm preaching to myself as much as to any of you!
So what are the keys to reaching the most positive end result with our lifetime of regrets.
Before we get into some of the practical ideas for taking some of the deep pain out of these situations, let's talk for a moment about why we ALL walk through this life with many things we wish we had done or said, or things we wish we hadn't done or said.
The simple answer is, at our core, we are all sinful. That's not what you were hoping to hear, is it? Would have been nice to have a more positive spin on this advice. But the reality is what we read in Romans 3:23, "…for all have sinned and fallen short of the glory of God." Or similarly in 1 John 1:8, "If we say we have no sin, we deceive ourselves, and the truth is not in us."
This is the human condition – we all sin. And God makes no distinction between what we might categorize as just a little white lie or a horrific murder. That's because all sin is abhorrent to God because he is holy.
So let's look first at some of the practical ways we can learn how to live as victoriously as possible with our litany of regrets.
First of all, are you absolutely sure there's nothing you can do to make amends for the situation you regret? If the other person is no longer living, or there's no way to contact them, or the relationship is irreparably damaged, then perhaps you truly have no way to attempt to make things right again.
But I think it's worth doing that analysis first. What if this person held $10 million that was yours if you would just reach out to them? How hard would you try to track them down then? Just a silly little example, but I think you see my point.
For the rest of this discussion, let's assume there are no more opportunities to right any wrongs you're living with.
Can we learn any lessons from whatever wrong we've committed? I can't imagine the answer to that question would ever be, "No!" There's ALWAYS something to be learned by reflecting on the things we wish we'd done differently. And then making a concerted effort to change that behavior going forward. Getting it "right" the second, third, etc. time is its own reward.
If you can't ask forgiveness from the one you've wronged, is there anyone else you can ask? Of course, there may be others who were less affected by your transgression and perhaps asking for their forgiveness would give you some peace.
But that's not really where I'm going with that question. In Psalm 51:4, we read, "Against you [God], you only, have I sinned and done what is evil in your sight." That's an interesting twist, isn't it? And here we thought we'd wronged our mother, father, sibling, child, friend, co-worker etc. But the Bible says the ultimate One offended is God.
Here's the good news. God is a God of forgiveness! And he is still available to us. "For you, O Lord, are good and forgiving, abounding in steadfast love to all who call upon you" (Psalm 86:5). It's a beautiful promise, and forgiveness is at the very core of who God is.
But it's not a flippant, "I'm sorry" and then revert back to the same behavior. It's a true conviction of the heart. "For godly grief produces a repentance that leads to salvation without regret, whereas worldly grief produces death" (2 Corinthians 7:10).
Once you have truly repented of your regret/sin, here's even more good news. "As far as the east is from the west, so far does he remove our transgressions from us" (Psalm 103:12). God's forgiveness for his children is complete and forever. The Bible even tells us that he remembers them no more. God doesn't actually FORGET, but the result in our lives can be as if he did.
Live victoriously, knowing God has forgiven you. And strive to do better the next time the situation arises. Don't wallow in a past that you can't change. Trust it all to the God who loves with you an everlasting love!